When a retailer wants to plan a new campaign for merchandise offerings, being unique certainly should be the main approach.
Well never to be second best, Target really out did themselves with this new campaign to showcase new furniture and accessory lines of merchandise.
They built an actual "DOLLHOUSE" as it has been termed, inside Grand Central Station in NYC!
For the rest of the story, click here.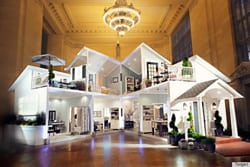 Congratulations TARGET, you certainly "GET IT".